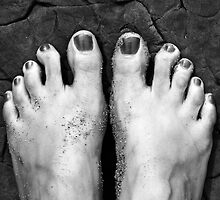 Yeah! You are making the switch and are so excited that you are ready to go! But, before you take one barefoot step, read this! Transitioning to barefoot or minimal footwear for running, other workouts or everyday wear should be performed progressively and with awareness. Tendons, ligaments, muscles, bones and skin all must adapt. Building up strength slowly will prevent undue stress and injury.
Your body is highly adaptable and will learn to function quickly, but the movement, either barefoot or minimally shod, is different than you may be accustomed to, and can cause muscle soreness at first. When barefoot or in minimal footwear, it is most common to adjust your gait from a heel strike to a forefoot/midfoot strike. (Lieberman) Forefoot striking requires you to use muscles in your toes, midfoot, heel, ankles and calves that are most likely pretty weak. Podiatrist, Dr. Michael Nirenberg explains in a recent article for the Canadian Medical Association Journal  "There are four layers of muscle in our feet. The majority of the muscles are used less, if at all, when the feet are in supportive footwear…once you support the arch of the foot, you don't use your foot muscles as much." (Collier, 2011) The typical modern shoe is like wearing a cast for too long, the confined muscles atrophy. Dr. Nirenberg further states "If you start doing barefoot activity…you start to build up the muscles in your feet." (Collier, 2011)  As a result of the new movement, your feet and calves are going to temporarily feel it as strength is built; they may feel tired, stiff and sore. Additionally, the Achilles tendon may stiffen. That's why it is imperative to your health to take a progressive approach, acutely listen to your body, maintain proper form, and not push further than your body can handle.
To begin, test out your shoes wearing them to do things that you normally do in regular shoes. Wear them to the grocery store, around the house, get a feel for them and rediscover what feels natural. Your toes grip the floor a bit differently, and you will feel quite a bit more of the ground environment. You may experience spring in your step and a bit of exhilaration.
Once you are ready, try 10% of your regular workout in them for one week.  Then, progress increasing by 10% each week until full time use is achieved. Vibram's brochures say, don't get discouraged, but it may take as long as one year to comfortably make a clean break from traditional sneakers to full time FiveFingers.
Dan Lieberman and team, reiterate in the Biomechanics of Foot Strike, "Be patient and build gradually. Stop and let your body heal if you experience pain. Sore, tired muscles are normal, but bone, joint, or soft-tissue pain is a signal of injury. Stop if your arches are hurting, if the top of your foot is hurting, or if anything else hurts!"
When transitioning, you don't necessarily have to reduce your workout, just reduce the time you are barefoot or in minimal footwear.  Carry a pair of sneakers along for part of your workout. You may also want to integrate forefoot/midfoot striking into your normal workout progressively. Start off your workout with a forefoot/midfoot strike and transition to your normal strike.
Become and stay very aware of your environment, the terrain and what is in front and under foot. Let your feet and legs feel the subtle changes in impact and ground so you can adjust your body. And, of course, when running barefoot particularly, be careful of things that can lead to a stubbed toe or puncture your soles, like nails, glass, fish hooks, needles.
Finally, prevent injury and soreness by stretching and foam rolling your feet, calves and hamstrings regularly; preferably after each workout/use.
To learn specific feet strengthening, foam rolling and stretching exercises that are best for your body and ability, and learn how to integrate them into your unique workout, check out a Workout Evolution clinic.
| | |
| --- | --- |
|   | Travis Grosjean, a certified personal trainer at JRRC, is a NASM CPT, a TRX Suspension Trainer, former collegiate track athlete and creator of Workout Evolution clinics- 1 hour jam packed, educational workshop/clinics, where you learn new exercises and equipment to enhance your workout and improve your health. Your workout, Your way. |
Checkout the latest Workout Evolution  schedule for fun, exciting upcoming clinics. When, where, how much, what to bring? It's all answered at About Workout Evolution. Can't wait to see you at the next clinic!
© ALL RIGHTS RESERVED.
Resources
Vibram publishes great tips on transitions, (see these tips for the running) getting you familiar with and prepared for your new shoes.
birthdayshoes.com [beginner's guide] to Vibram FiveFingers
Sole Training (www.willpowerfit.com), a training program designed to strengthen your feet and prepare them for FiveFingers, is available online.
Collier, R. (2011) Low-tech running shoes in high demand. CMAJ: Canadian Medical Association Journal, 183(1), E20(1).
Bean, Adam. (2010). Bare Feat. Runner's World, 45 (9),064.
Burfoot, Ambry. (2010). Barefoot Running. Runner's World, 45 (2), 062.